Shortwool (Ink shown below)
$450.00 NZ per pair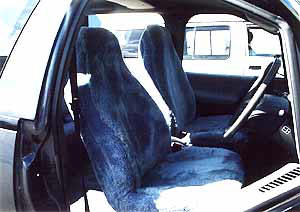 Sheepskin sales produces a range of mulitfit seatcovers from the finest lambskin with a stretch polyester backing shell of similar color.

Sheepskin Sales Multifit seatcovers will fit most vehicles however some models and classic cars may require a custom made pattern. We are generally able to facilitate this but in some cases there may be additional costs due the the custom changes required.
Seatcovers can be modified for airbags at no extra cost

These covers fit a wide range of seats and offer the following benefits
In the summer sheepskin wicks the moisture off your body which keeps you cooler. Our seatcovers have the ability to hold your body heat which keeps you warmer in the winter.
Seatcovers form a cushion support to help relieve pressure points, arthritic, and rheumatic problems and help soothe back pain.
Improved driver performance and reduces stress due to better comfort during long trips. The wool pile in our seatcovers assists in evenly distributing body weight and easing pressure points.
Wool is an anti-static fiber so dirt will not stick to it. A simple vacuuming will usually keep your cover clean.